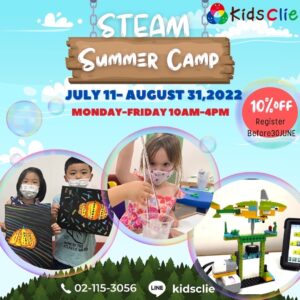 Summer Camp is around the corner. Hang on!
Start from 11th July – 31th August 2022 (except weekend)
Come join us to create new experiences and fun through our STEAM Education (Science, Legos, Languages and Arts).
Early Bird Offer: Register before 30th June 2022 Get 10% discount
We accept kids 3years old – 8 years of age.
Measures against covid-19
・Please submit ATK result once a week
・Check your child's temperature before coming to school *child who has the temperature higher than 37.5℃ will not be allowed to attend the school
・Be sure to wear a face mask, wash hands, and use hand sanitizer.