KidsClie Science School Kits
Wouldn't it be great to have the wonderful experience of science experiments as part of daily school life?

We provide the KidsClie Science Kits every month, which children can use to do science experiments in English and Japanese anytime, anywhere.
All you need is a desk and a chair, and no prior preparation.
The key points of the science experiments can be viewed in the monthly online training and video recordings in English and Japanese.

It is recommended for children's educational facilities such as preschools, international schools, English classes, school childcare, and cram schools.
Why Science is the most important of STEAM
STEAM education, a hot topic in children's education, is an educational method that integrates Science, Technology, Engineering, Mathematics, and Arts/Liberal Arts.
In STEAM education, Science is most emphasized because it fosters critical thinking, truth-seeking, and applied problem-solving skills. Science is also emphasized because it is an integral part of the integration of the other four disciplines, as many technologies are the result of scientific discoveries.

At KidsClie Science School Kits, students learn by exploring various fields through fun science experiments.
What are the 5 Top Benefits in Your School?
1. The facilitation of education
Our program plan is designed to reinforce children's curiosity,
And lead them to ask the key question behind all learning: "Why?"
It's not only fun, but also a reliable educational tool.
2. Support systems
We offer support for running English and Japanese language science experiments.
We provide online training and tutorial videos.
For running lectures with English and Japanese language science experiments for children.
They can even be carried out without the need of specialist staff.
3.Kit provision
KidsClie provides setup equipment and experiment materials every month.
We minimize the most taxing element of running experiments:
The preparation.
All you need
Are tables, chairs, and KidsClie Science School Kits!
4. Classes can be held as part of daily activities or as a new segment class
You do not need to hold your classes event as part of KidsClie Science School.
You can introduce lessons as a daily activity for your facility, and set the course fees as your own workshop.
5. We also provide original lab coats for your facility
We can make original lab coats with your facility's desired logo or design.
This can also enhance the STEAM education brand.
Curriculum starts at age four
KidsClie Science School Kits is a 4-level course that prepares students to complete 6th grade.      
Begginer course (for 4-6 year olds) twice a month
-Sorbet made without freezer
-Autumn fruits, etc.
Elementary level (for 5-8 year olds) twice a month or four times a month
-Small organisms living in water under a microscope
-Starch reaction of iodine, etc.
Intermediate (for 6 to 9 years old) Twice a month or 4 times a month
To be released in April 2023
-Crystals
-Conduction and convection of heat, etc.
Advanced (for 8-10 years old) Twice a month or 4 times a month
To be released in April 2024
-Black light and color decomposition
-Geological Changes, etc.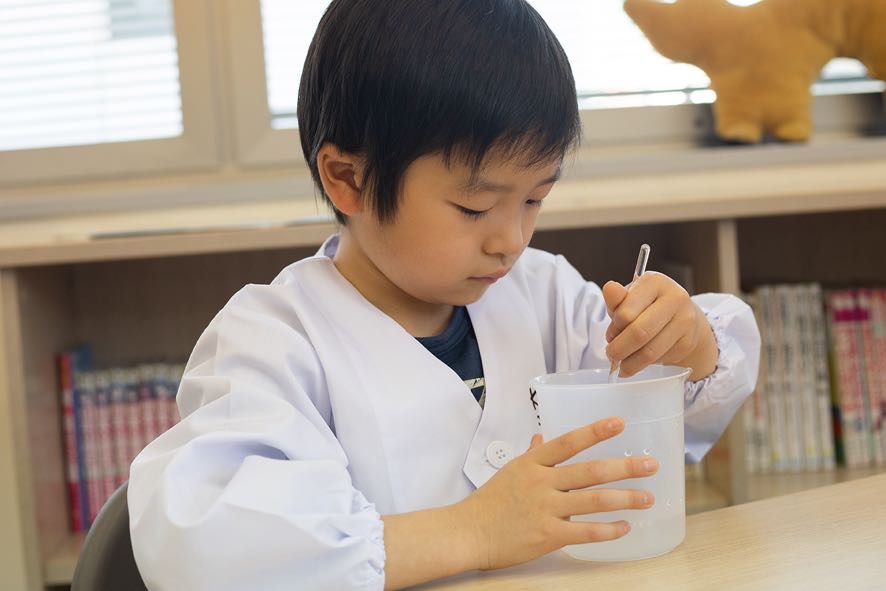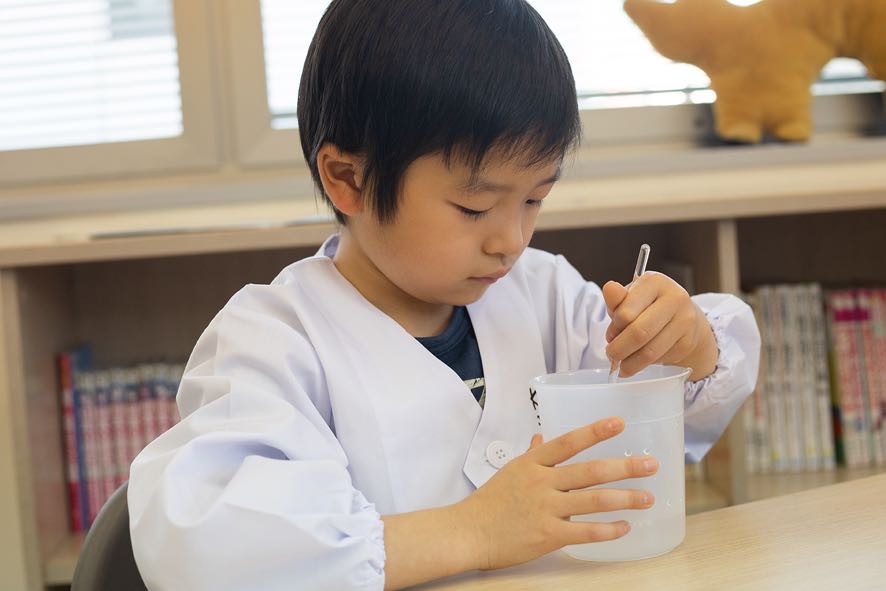 Opening Lessons
To start using it, you have to sign a contract with VisionGate Ltd., the company that runs KidsClie.
The time from your application to the start of classes can be as short as one month. (Please note that the delivery of Initial equipment and lab coats may take some time.)
Contact Us
For more information on our services or agreements, please contact us using this contact form.
The person in charge in Japan will be your point of contact, and will answer any questions you may have when implementing the contract.
VisionGate Ltd.
Head Office Minegishi Bldg. 2nd Floor,3-16-11 Shirokanedai, Minato-ku,Tokyo,
Japan 108-0021
+81-3-5422-7503

What KidsClie?
We began as a private school for children in Shiroganedai, Tokyo, as Kodomo Clie Juku, in April 2011.
With the goal of nurturing international leadership and creativity, our school implemented the Bill Gates Foundation's EdVision project-based learning methods, and conducts daily workshops, including science experiments, for of students. We operate five schools across Omotesando, Shirokanedai, Myogadani, Yotsuya, and Nihonbashi.
We started KidClie in 2018, in Bangkok, Thailand.
We operate a STEAM education child care and pre-school for Japanese and multi-national children starting from 1.5 years old.