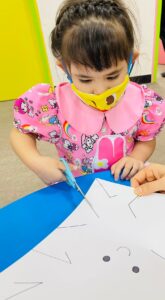 Today, we had a wonderful day with this little girl and her scissor activity. The girl really seemed to enjoy cutting that she cut three pieces of paper in a row tirelessly with the teachers' support. From this activity, she was able to learn fine motor skills and her interest in using scissors. If you're are also interested, feel free to join us!
For further information

Welcome to KidsClie Bangkok: Child Care & Preschool
Let's have fun with STEAM together! Starting from 1 year old.
Science Experiments, LEGO, Programming, Art, and English. Open all year round.
Pre-School: We incorporate STAM education into the program that based on the children's development.
Our classes will be taught in English, Thai and Japanese.
Kidsclie_BKK(@kidsclie_bkk) • Instagram
TEL:02-115-3056
E-MAIL:info-th@kidsclie.com